How we price
Bringing you rock-bottom luggage shipping rates.
Our mission is to get you the cheapest FedEx or UPS shipping label and to make it as easy as possible to ship your luggage. Our search engine will always find you the best rate based on your specific shipment. If you have questions about what size your bag or box is, visit our item size calculator.
The base rate
The way we calculate the cost of your non-refundable shipping label, before any extras, will depend on the following characteristics of your shipment: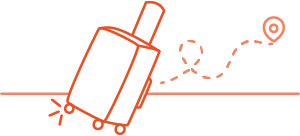 How far?
You gotta chip in for gas
The farther your bag or box goes, the more it costs to drive it or fly it there. Maybe your bag will meet some bag friends along the way.
How heavy?
Lift with your knees
Guess what? Heavy things are harder to move than light things. So your bag full of boots will cost a little more than your bag full of boas. Super heavy things (over 75lbs) may incur an additional surcharge of up to $75. If what you send ends up being heavier, don't worry, we'll rebill you for the corrected amount (but, the cost of shipping luggage will be less if you just guess right in the first place).
How big?
This just in: Size matters
There is only so much space to go around and it has a price. Here's how it works (this is important): During transit, items are measured at the longest point of each side including straps, handles and wheels. Those dimensions, in inches, are then used to calculate a Dimensional Weight (DW). Here's the forumula: (LxHxW)/139 = DW. If the Dimensional Weight is greater than the actual weight (in pounds), you will be charged for that number of pounds.
How many?
More costs 

more

 less
That's no typo. Sure sending two items will cost more than one...but not twice as much. We get a price break when you send more with LugLess, and we always pass the savings on to you which is pretty cool! You won't strike that deal with the airlines. So go ahead, pack like you mean it and ship that second bag.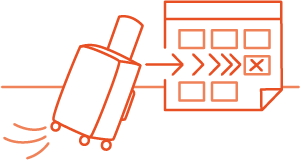 How fast?
The need for speed may cost you
No time to spare? No problem. Depending on your shipment, there may be up to four speed options. The least expensive will range from two to six business days in service, but there will always be a next business day option for you last minute packers...but it will cost you. The fastest option will always be the most expensive.

Pick up
Add a pickup from your doorstep for extra convenience.

Protection
Purchase coverage for the contents of your bag.

Luggage tag
Receive a protective luggage tag for your shipping label.
Enhanced tracking
Additional oversight of your bag's progress.

On-time guarantee
Add peace of mind with
an on-time guarantee.
Support
Access chat, email and/or
phone support.
Flexibility
Make your shipment
changeable or refundable.